A 79-year-old man from Somerset who was said to have "snapped" and strangled the wife he had cared for has been jailed for 12 months.
Malcolm Beardon, of Churchfields, Wellington, admitted the manslaughter of Margaret, 78, who had dementia.
The manslaughter plea was accepted by the prosecution on the grounds that Beardon had lost control after caring for his wife for more than a decade. Exeter Crown Court heard that Beardon had been caring for his wife of 58 years - and childhood sweetheart - for more than a decade.
Judge Graham Cottle said that to describe the case as tragic would be "a significant understatement". He described Beardon as having been a man of "impeccable character" and added: "I am sure that what you did will haunt you for the rest of your days."
The court heard that as Mrs Beardon's dementia progressed, she no longer recognised her home, her family, or her husband. At a previous hearing, the court was told that after strangling his wife, Beardon had phoned his daughter to tell her. He had rejected offers for help, insisting that he could cope, the court heard.
=============================================================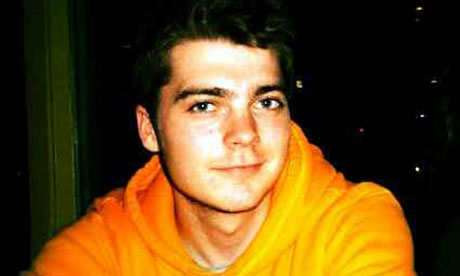 Richard O'Dwyer, the 23 year old man who was accused by Big Content of operating streaming website TVShack, faces extradition to the United States.
O'Dwyer's servers were outside of the USA, but that has not stopped Big Content and its political cronies from pursuing him and calling for an extradition. A British court has now caved in to America's demands and he faces being shipped to the States for the grave crime of linking to website that stream TV shows online for free.
America has been openly running a paper tiger policy against people it perceives are a threat to its churlish but effective role as the world's bully.
Judge Quentin Purdy ruled that O'Dwyer's website "could have" been illegal under UK law, and that any grounds for human rights appeals would go nowhere.
O'Dwyer's family will appeal.
Hacker Gary McKinnon was targeted because, admitted a US ambassador, he "mocked" the USA.
As Senator Darrell Issa said of Julian Assange: "If the President says 'I can't deal with this guy as a terrorist,' then he has to be able to deal with him as a criminal, otherwise the world is laughing at - this paper tiger we've become."
If Big Content has the influence to push through an undemocratic blanket-censorship bill like SOPA, then it has the influence to push for O'Dwyer's extradition.
O'Dwyer's mother's statement is a poignant one.
She told the Guardian's Walker:
"If they can come for Richard they can come for anyone".