Saturday, 24 April 2010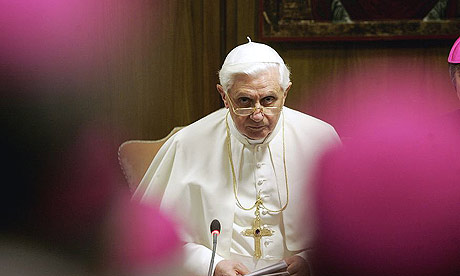 The Foreign Office has apologised after a document suggested the Pope's visit to Britain should be marked by the launch of "Benedict" brand condoms.


The junior civil servant responsible was put on "other duties", it said. Entitled "The ideal visit would see..." the paper suggested the Pope be invited to open an abortion clinic and bless a gay marriage during September's visit.
Of course, this is ridiculous as,
only last year
, our favorite never-really-a-nazi pope pointed out that they are completely useless pieces of rubber and that Aids was
"a tragedy that cannot be overcome by money alone, that cannot be overcome through the distribution of condoms, which even aggravates the problems.
The traditional teaching of the church has proven to be the only failsafe way to prevent the spread of HIV/Aids."
Posted by

The Editor
at 22:46
No comments:
Links to this post


Tuesday, 20 April 2010
"See what you've done, you brazen hussy?"
P
romiscuous women are responsible for earthquakes, a senior Iranian cleric has said.
Hojatoleslam Kazem Sedighi told worshippers in Tehran last Friday that they had to stick to strict codes of modesty to protect themselves.
"Many women who do not dress modestly lead young men astray and spread adultery in society which increases earthquakes," he said.
"What can we do to avoid being buried under the rubble? There is no other solution but to take refuge in religion and to adapt our lives to Islam's moral codes," he said.
Posted by

The Editor
at 15:22
No comments:
Links to this post